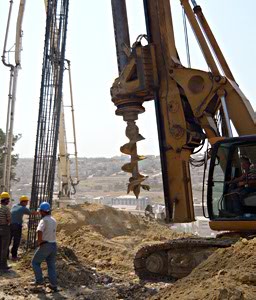 General Geotechnical Engineering
NYS Consulting & Construction provides the full range of Geotechnical Engineering Services, including:

• Subsurface investigation by test borings, test pits, standard penetration test (SPT),
cone penetration test (CPT),cone penetrometer, geophysics, etc.
• Laboratory testing of soil, rock, and geosynthetic materials
• Engineering analysis including:
• Settlement
• Bearing Capacity
• Slope Stability
• Lateral Earth Pressures
• Pile Capacity
• Caisson (Drilled Pier) Capacity
• Finite Element Analysis
• Formulation of recommendations for design and construction of:
• Foundations
• Earthworks
• Pavement
• Groundwater Control
• CAD design
• Quality Control ("inspection") of foundation and earthwork construction and
geosynthetic installation.
• Forensic analysis of geotechnical failures
• Expert witness testimony

These services are provided for a wide range of projects, including commercial developments, institutional buildings, landfills, industrial facilities and dams, elevated water tanks, pipelines, and other projects. Clients include Owners, Architects, Engineers, Contractors and Attorneys.