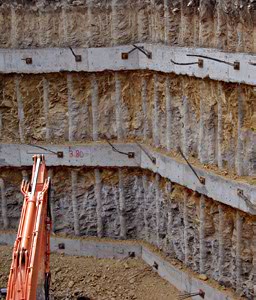 Jet Grouting
Jet grouting is a general term describing various construction techniques in which ultra high-pressure fluids or binders are injected into the soil at high velocities (300 to 400 meter per second). Jet grouting breaks up the soil structure completely and mixes the soil particles in-situ with a binder to create a homogeneous mass, which in time solidifies.

Modern soil mixing techniques, such as jet grouting became prevalent all around the world in the late 1980s, with the adaptation, introduction and development of specialty foundation construction equipment. Major advances include increased depth capabilities, more homogeneous mixing, and the ability to capture harmful vapors on environmental remediation projects.

Jet grouting can be used regardless of soil type, permeability, grain size distribution, etc. In theory, it is possible to stabilize most soils, from soft clays and silts to sands and gravel. Although it is possible to inject any type of binder, in practice water / cement mixtures are normally used. Where impermeabilization of the soil is required, water / cement / bentonite mixes are typically utilized.

A subsurface slurry wall can be formed by sequentially jet grouting adjoining columns of soil. An advantage of jet grouting over other slurry wall techniques is it can be used to stabilize a wide range of soils ranging from gravel to heavy clays. A secondary advantage is that large diameter columns or panels can be created from relatively small diameter boreholes. Therefore, slurry walls can be constructed beneath buildings with limited disruption of the structure itself by using jet grouting techniques.