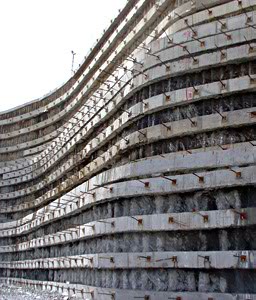 Sheet Piles
Sheet piling consists of a series of panels, with interlocking connections, that are driven into the ground with impact or vibratory hammers to form an impermeable barrier. The panels can be made from a variety of materials such as steel, vinyl, plastic, wood, recast concrete, and fiberglass. Sheet piling has been used to divert and control groundwater and for flood protection and slope stabilization and as barriers for groundwater treatment systems.

An advantageous addition to the sheet piling industry was vinyl panels, which were introduced in 1989. These vinyl panels, with impervious sealants, have become an attractive technology for the cutoff or containment of contaminated groundwater in the environmental industry


Over the years, sheet piling has been used to construct:


• Cofferdams
• Retaining Walls
• Containment Walls
• Cut and Cover Tunnels
• Bulkheads and Seawalls
• Weir Walls
• Baffle Walls

Advantages of sheet piling barriers include:


• An excavation is not required, which minimizes waste disposal problems;
• Sheet piling can be removed later, if required or desired;
• Topography and depth to groundwater have little impact;
• Irregular enclosure shapes are possible; and
• Sheet piles can be installed off barges, which eliminates unnecessary site clearing.